Our Clients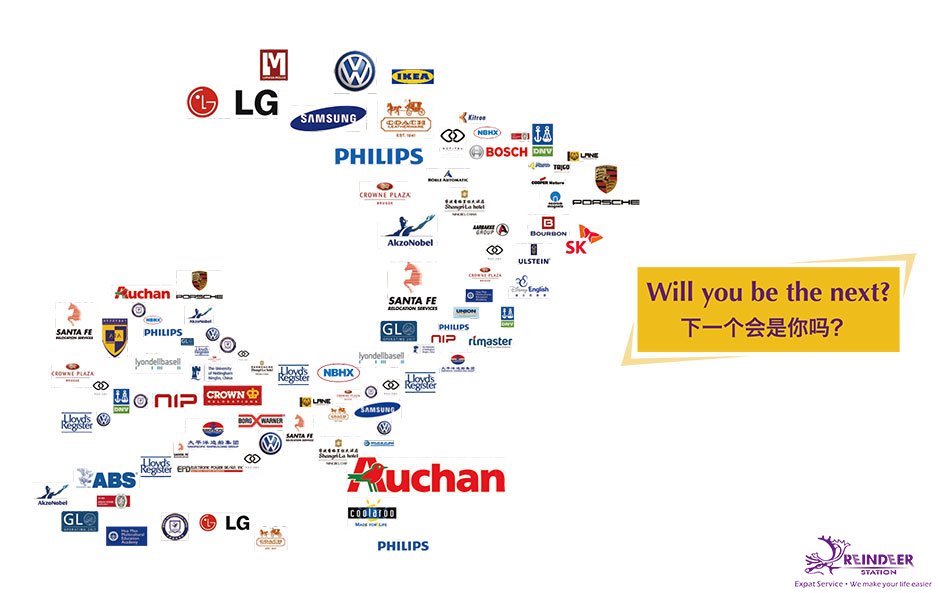 Who has Reindeer Station served?
Clients include big companies and conglomerates such as IKEA, Philips, Samsung. LG, Auchan, Bosch, Volkwagen and many more. Reindeer Station serves hundreds to thousands of individual clients a year, and the number increases as Ningbo develops to be a popular choice for expats to reside and start/expand businesses in.
What makes Reindeer Station different?
Reindeer Station is professional, facilitative and efficient, equipped with strong knowledgeand a formidable network of contacts and affiliation across China. It works closely with the government in Ningbo, with connections not just within Ningbo but in other cities too. The staffs at Reindeer Station are fluent English speakers, and are well-connected and knowledgable with the local terrains and market in Ningbo – providing expats with their expert advice and consultation.
Ningbo relocation company Ningbo relocation company Ningbo relocation company Ningbo relocation company Ningbo relocation company Ningbo moving company Ningbo moving company Ningbo moving company Ningbo moving company Ningbo moving company Moving to ningbo Moving to ningbo Moving to ningbo Moving to ningbo Moving to ningbo Moving to ningbo Moving to ningbo For expatriates / expats in Ningbo For expatriates / expats in Ningbo For expatriates / expats in Ningbo For expatriates / expats in Ningbo Apartments in Ningbo Apartments in Ningbo Apartments in Ningbo Apartments in Ningbo Apartments in Ningbo Apartments in Ningbo Housing in Ningbo Housing in Ningbo Housing in Ningbo Housing in Ningbo Housing in Ningbo Housing in Ningbo Housing in Ningbo House in Ningbo House in Ningbo House in Ningbo House in Ningbo House in Ningbo House in Ningbo House in Ningbo Living in Ningbo Living in Ningbo Living in Ningbo Living in Ningbo Living in Ningbo Living in Ningbo